Cuiabá

topographic map

Click on the map to display elevation.
About this map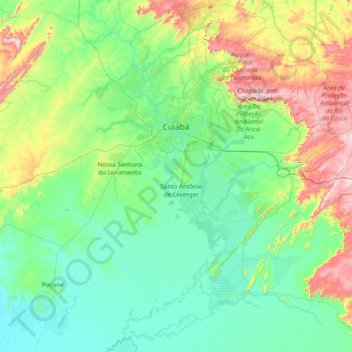 Minimum elevation: 110 m
Maximum elevation: 901 m
The Massairo Okamura State Park provides a green space with typical cerrado vegetation in the centre of a highly urbanized area. It helps preserve the headwaters of the Barbado and Moinho streams. The 66 hectares (160 acres) Zé Bolo Flô State Park is in the Grande Coxipó district. The city also includes the 77 hectares (190 acres) Mãe Bonifácia State Park, created in 2000, also with typical cerrado trees. Cerrado includes various types of vegetation. It is characterized by extensive savanna formations crossed by gallery forests and stream valleys. Humid fields and "buriti" palm paths are found where the water table is near the surface. Alpine pastures occur at higher altitudes and mesophytic forests on more fertile soils.
Other topographic maps
Click on a map to view its topography, its elevation and its terrain.