Komotini

topographic map

Click on the map to display elevation.
About this map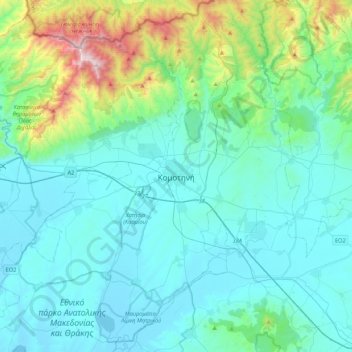 Minimum elevation: -4 m
Maximum elevation: 1,488 m
The city stands at an altitude of 32-38m on the Thracian plain near the foothills of the Rhodope Mountains. It is situated between two rivers, Boklutzas on the west and Trelohimaros on the east (which form, alongside the Karidia stream, the river Bosbozis). There is little urban planning in the older parts of city, in contrast to more recently developed quarters. According to the 2011 census, the municipality's population amounts to 66,919, a number that does not include approximately 12,000 resident students, trainees and soldiers. There are two airports near Komotini. The nearest is in Alexandroupoli (65 km), and the other is in Kavala (80 km). It has rail and bus links to all continental Greek cities as well as Istanbul, and the good provincial road network has been supplemented by the new Egnatia Odos motorway.