Badajoz

topographic map

Click on the map to display elevation.
About this map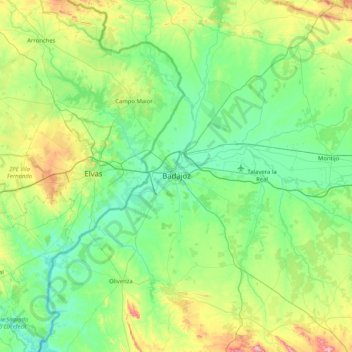 Minimum elevation: 130 m
Maximum elevation: 736 m
In geological terms, Badajoz is located in the South Submeseta. It was founded on the banks of the Guadiana River on a Paleozoic limestone hill, carved by the river. On this hill is the Alcazaba, one of the main sights of the city. The municipality of Badajoz contains soils derived from tertiary deposits, dating to the Paleozoic era. Its average altitude is 184 metres (604 ft) above sea level. The highest points are located in the Cerro del Viento (219 metres (719 ft)), at Fuerte San Cristóbal (218 metres (715 ft)) and Cerro de la Muela (205 metres (673 ft)). The lowest point is the Guadiana River (168 metres (551 ft)).