Municipio de Quetzaltenango

topographic map

Click on the map to display elevation.
About this map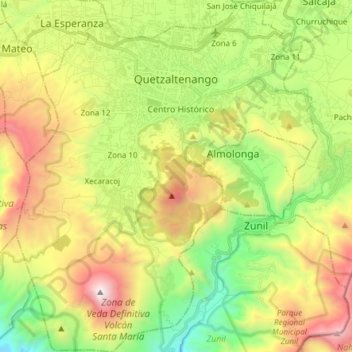 Minimum elevation: 1,605 m
Maximum elevation: 3,750 m
Quetzaltenango (Spanish pronunciation: [ketsalteˈnaŋɡo], also known by its Maya name Xelajú [ʃelaˈχu] or Xela [ˈʃela]) is both the seat of the namesake Department and municipality, in Guatemala. The city is located in a mountain valley at an elevation of 2,330 meters (7,640 feet) above sea level at its lowest part. It may reach above 2,400 m (7,900 ft) within the city.