French Guiana

topographic map

Click on the map to display elevation.
About this map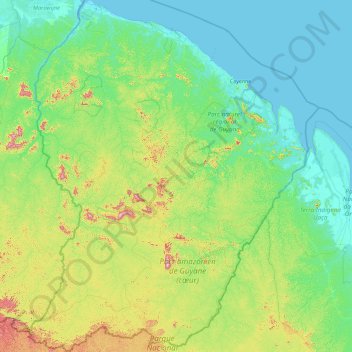 Minimum elevation: -2 m
Maximum elevation: 791 m
French Guiana has an equatorial climate predominant. Located within six degrees of the Equator and rising only to modest elevations, French Guiana is hot and oppressively humid all year round. During most of the year, rainfall across the country is heavy due to the presence of the Intertropical Convergence Zone and its powerful thunderstorm cells. In most parts of French Guiana, rainfall is always heavy especially from December to July – typically over 330 millimetres or 13 inches can be expected each month during this period throughout the department. Between August and November, the eastern half experiences a warm dry season with rainfall below 100 millimetres or 3.94 inches and average high temperatures above 30 °C (86 °F) occurring in September and October, causing eastern French Guiana to be classified as a tropical monsoon climate (Köppen Am); Saint-Laurent-du-Maroni in the west has a tropical rainforest climate (Af).
Other topographic maps
Click on a map to view its topography, its elevation and its terrain.