Delhi

topographic map

Click on the map to display elevation.
About this map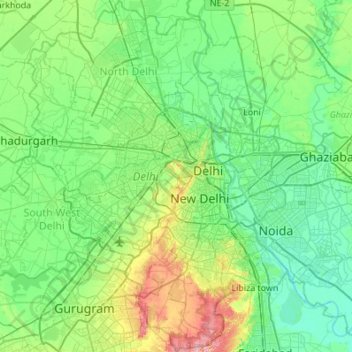 Minimum elevation: 192 m
Maximum elevation: 315 m
The topography of the medieval fort Purana Qila on the banks of the river Yamuna matches the literary description of the citadel Indraprastha in the Sanskrit epic Mahabharata; however, excavations in the area have revealed no signs of an ancient built environment. From the early 13th century until the mid-19th century, Delhi was the capital of two major empires, the Delhi Sultanate and the Mughal Empire, which covered large parts of South Asia. All three UNESCO World Heritage Sites in the city, the Qutub Minar, Humayun's Tomb, and the Red Fort, belong to this period. Delhi was the early centre of Sufism and Qawwali music. The names of Nizamuddin Auliya and Amir Khusrau are prominently associated with it. The Khariboli dialect of Delhi was part of a linguistic development that gave rise to the literature of Urdu and Modern Standard Hindi. Major Urdu poets from Delhi include Mir Taqi Mir and Mirza Ghalib. Delhi was a major centre of the Indian Rebellion of 1857. In 1911, New Delhi, a southern region within Delhi, became the capital of the British Indian Empire. During the Partition of India in 1947, Delhi was transformed from a Mughal city to a Punjabi one, losing two-thirds of its Muslim residents, in part due to the pressure brought to bear by arriving Hindu and Sikh refugees from western Punjab. After independence in 1947, New Delhi continued as the capital of the Dominion of India, and after 1950 of the Republic of India.
Other topographic maps
Click on a map to view its topography, its elevation and its terrain.