Frankston

topographic map

Click on the map to display elevation.
About this map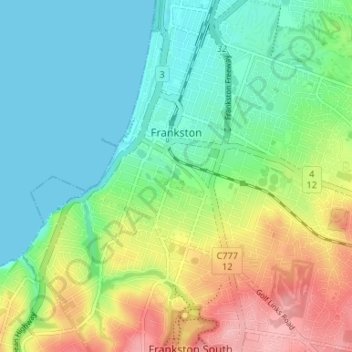 Minimum elevation: 0 m
Maximum elevation: 119 m
Olivers Hill is the most prominent elevation in Frankston which rises to 55 metres above sea level (180 feet) at its highest point in the suburb. Its origins date to approximately 415 to 360 million years ago. Its base is Mount Eliza Granite dating from the Devonian period, which was covered in lava tuffs in the Paleogene period. During the Miocene epoch in the Neogene period, the Frankston area was entirely flooded by the sea resulting in a mix of Balcombe Clay (at deep levels) and Baxter Sandstone (at shallow levels) covering the basaltic (lava) level. Fluctuating ice ages of the Pleistocene epoch in the current Quaternary period caused sea levels to rise and fall dramatically and for sedimentary rock and sand to be deposited on the surface of the hill. Aeolian processes in the current Holocene epoch, in which Port Phillip has periodically dried up (as recently as 1000 years ago), has caused further sand to be deposited.
Other topographic maps
Click on a map to view its topography, its elevation and its terrain.