Hong Kong

topographic map

Click on the map to display elevation.
About this map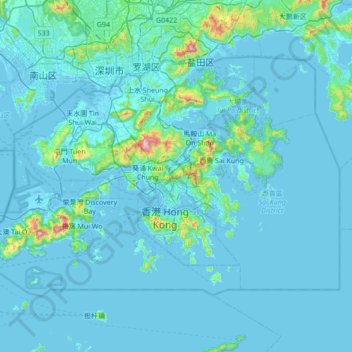 Minimum elevation: -6 m
Maximum elevation: 938 m
Hong Kong has a humid subtropical climate (Köppen Cwa), characteristic of southern China, despite being located south of the Tropic of Cancer. Summers are long, hot and humid, with occasional showers and thunderstorms and warm air from the southwest. The humid nature of Hong Kong exacerbates the warmth of summer. Typhoons occur most often then, sometimes resulting in floods or landslides. Winters are short, mild and usually sunny at the beginning, becoming cloudy towards February. Frequent cold fronts bring strong, cooling winds from the north and occasionally result in chilly weather. Autumn is the sunniest season, whilst spring is generally cloudy. When there is snowfall, which is extremely rare, it is usually at high elevations. Hong Kong averages 1,709 hours of sunshine per year. Historic temperature extremes at the Hong Kong Observatory are 36.6 °C (97.9 °F) on 22 August 2017 and 0.0 °C (32.0 °F) on 18 January 1893. The highest and lowest recorded temperatures in all of Hong Kong are 39.0 °C (102 °F) at Wetland Park on 22 August 2017, and −6.0 °C (21.2 °F) at Tai Mo Shan on 24 January 2016.
Other topographic maps
Click on a map to view its topography, its elevation and its terrain.