County Wicklow

topographic map

Click on the map to display elevation.
About this map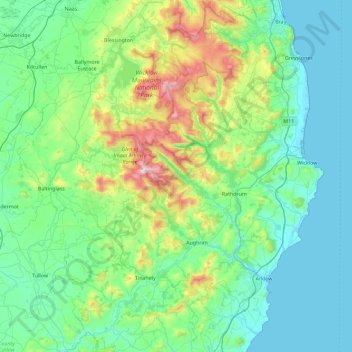 Minimum elevation: 0 m
Maximum elevation: 927 m
The county experiences a narrow annual temperature range. Typical daytime highs range from 17–22 °C (63–72 °F) throughout the county in July and August, with overnight lows in the 11–14 °C (52–57 °F) range, although temperatures in the mountains can be 5–10 °C (41–50 °F) lower. Mean January temperatures range from 7 °C (45 °F) on the coast to 0 °C (32 °F) at high elevations. Precipitation is fairly evenly distributed throughout the year, although the wettest months (October and November) receive roughly twice as much rain as the driest months (February, March and April). The driest area of Wicklow is the northeast corner of the county, which is protected from the prevailing south-westerly winds by the Wicklow Mountains and receives around 750 mm (30 in) of rainfall per year. The coastal region of County Dublin immediately to the north is the driest location in all of Ireland as a result of the rain shadow created by the mountains.
Other topographic maps
Click on a map to view its topography, its elevation and its terrain.