Tver Oblast

topographic map

Click on the map to display elevation.
About this map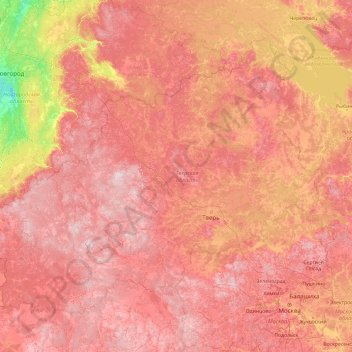 Minimum elevation: 15 m
Maximum elevation: 341 m
Tver Oblast as a whole is characterized by flat terrain with alternating lowlands and highlands due to its location in the East European Plain. In the western part of the province, occupying about one-third of its area is Valdai Hills, with elevations of 200–300 m above sea level. It is surrounded by depressions, lowlands have a height of 100–150 m highest point of the area has a height of 347 m, is located on a hill Tsninsky (The top of the Valdai). The low point (61 m) - the extreme north-west area of the river's edge Kunya (Russian: Кунья) on the border with the Novgorod Oblast.
Other topographic maps
Click on a map to view its topography, its elevation and its terrain.