Elgeyo-Marakwet County

topographic map

Click on the map to display elevation.
About this map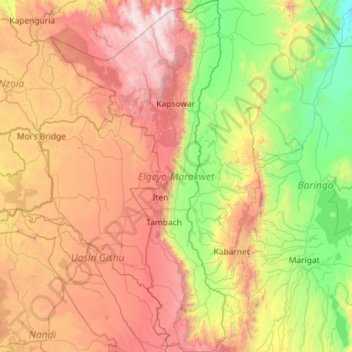 Minimum elevation: 675 m
Maximum elevation: 3,506 m
The Kerio River binds the county on the eastern side. From its alluvial plain the topography gradually rises towards the west. The Elgeyo Escarpment stands out distinctly and causes elevation differences of up to 1,500 m. In the northern and southern part of the county the topography is rugged, giving way to more subdued relief differences going westwards. The underlying geology mainly consists of gneisses from the Basement System. The Cherangany Hills rise gently to form the western half of the Great Rift Valley and extend northwest in a broken chain to Mount Moroto in Uganda. Non-volcanic in origin, the Cherangany Hills resulted from subsequent erosion of the raised western ridge of the Eastern Rift Valley. The range is approximately 30 miles (48 km) long and 25 miles (40 km) wide and averages 9,000 feet (2,700 metres) in height; its highest point reaches more than 11,000 feet (3,400 metres). Many of the summits are covered with huge groundsels and lobelias. Some of the hills include Kameleogon (3581 m), Chebon (3375 m), Chepkotet (3370 m), Alaleigelat (3350 m) and Sodang (3211 m).
Other topographic maps
Click on a map to view its topography, its elevation and its terrain.