Castlemaine

topographic map

Click on the map to display elevation.
About this map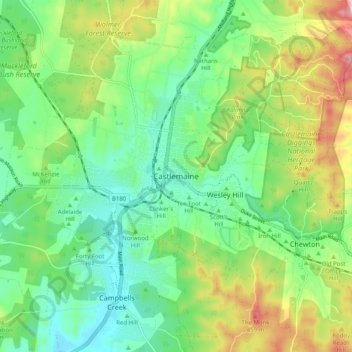 Minimum elevation: 254 m
Maximum elevation: 483 m
The Castlemaine goldfields' legendary prosperity raised expectations of Castlemaine becoming Victoria's second city. That is reflected in imposing buildings erected in the town's first few years. Though the rich alluvial diggings were largely exhausted within 15-20 years causing the town's population to shrink after the 1870s, a rich legacy remains in the form of its buildings and intact nineteenth century streetscapes comprising public buildings as well as simple miners' cottages. The historic area tells the history of Castlemaine in relics of significance, including the former steam flourmill (now 'The Mill'), the Church of England, and the Congregational Church, and despite the town's topographical limitation to the valley of the two creeks, broad streets and grand buildings convey an atmosphere of spaciousness.
Other topographic maps
Click on a map to view its topography, its elevation and its terrain.