Launceston

topographic map

Click on the map to display elevation.
About this map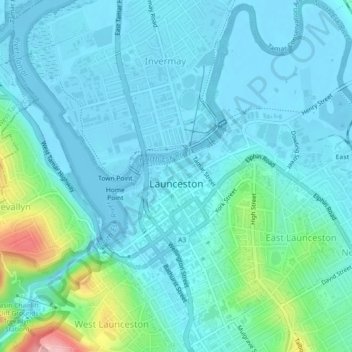 Minimum elevation: -3 m
Maximum elevation: 166 m
Launceston is at 41°26′31″S 147°8′42″E / 41.44194°S 147.14500°E / -41.44194; 147.14500 in the Tamar Valley, Northern Tasmania. The valley was formed by volcanic and glacial forces over 10 million years ago. The city is about 45 kilometres (28 mi) south of the Bass Strait, with its closest neighbour-city being Devonport, about 99 kilometres (62 mi) to the north west. Launceston combines steep (originally heavily wooded) ridges and low-lying areas (originally wetlands – with parts of the suburbs of Inveresk and Invermay below high-tide level). As a result, areas of Launceston are subject to landslip problems, while others are liable to poor drainage and periodic flooding. The topography of the area is not conducive to easy dispersion of airborne pollution, due to the phenomenon of thermal inversion.
Other topographic maps
Click on a map to view its topography, its elevation and its terrain.