Tuvalu

topographic map

Click on the map to display elevation.
About this map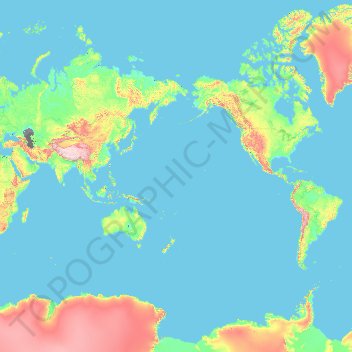 Minimum elevation: -29 m
Maximum elevation: 6,143 m
Tuvalu is a volcanic archipelago, and consists of three reef islands (Nanumanga, Niutao and Niulakita) and six true atolls (Funafuti, Nanumea, Nui, Nukufetau, Nukulaelae and Vaitupu). Its small, scattered group of low-lying atolls have poor soil and a total land area of only about 26 square kilometres (10 square miles) making it the fourth smallest country in the world. The highest elevation is 4.6 metres (15 ft) above sea level on Niulakita. Over four decades, there had been a net increase in land area of the islets of 73.5 ha (2.9%), although the changes are not uniform, with 74% increasing and 27% decreasing in size. The sea level at the Funafuti tide gauge has risen at 3.9 mm per year, which is approximately twice the global average. A 2018 report stated that the rising sea levels are identified as creating an increased transfer of wave energy across reef surfaces, which shifts sand, resulting in accretion to island shorelines. The Tuvalu Prime Minister objected to the report's implication that there were "alternate" strategies for Islanders to adapt to rising sea levels, and criticised it for neglecting issues such as saltwater intrusion into groundwater tables as a result of sea level rise.
Other topographic maps
Click on a map to view its topography, its elevation and its terrain.