Java

topographic map

Click on the map to display elevation.
About this map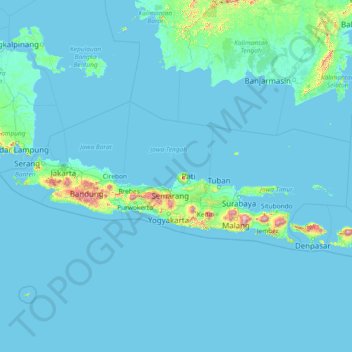 Minimum elevation: -2 m
Maximum elevation: 3,048 m
Java is an island with a large amount of biodiversity. The natural environment of Java is tropical rainforest, with ecosystems ranging from coastal mangrove forest on the north coast, rocky coastal cliffs on the southern coast, and low-lying tropical forest to high altitude rainforest on the slopes of mountainous volcanic regions in the interior. The Javan environment and climate gradually alters from west to east; from wet and humid dense rainforest in western parts, to a dry savanna environment in the east, corresponding to the climate and rainfall in these regions.
Other topographic maps
Click on a map to view its topography, its elevation and its terrain.